Components manufacturing: from ideation to realization
For nearly 24 years now, CCI has specialized in parts reconditioning (thermal spraying) and component manufacturing by machining and welding assemblies. Thanks to its constant investments in research and development, CCI has forged its reputation as the partner of choice in designing and creating components, and in parts reconditioning parts and protecting them against wear.
CCI manufactures major parts for the pulp and paper, wood processing, and metallurgy industries. Thanks to its constantly developing expertise, CCI is perfectly equipped to advise you from initial ideation to project creation.
CCI. Your reference point.
François
Boulanger
Foreman
Mission
CCI designs, manufactures and reconditions major added value parts for Quebec companies in the forestry, pulp and paper, metallurgy, and heavy industry sectors using machining, welding assemblies and thermal spraying (metallizing) processes.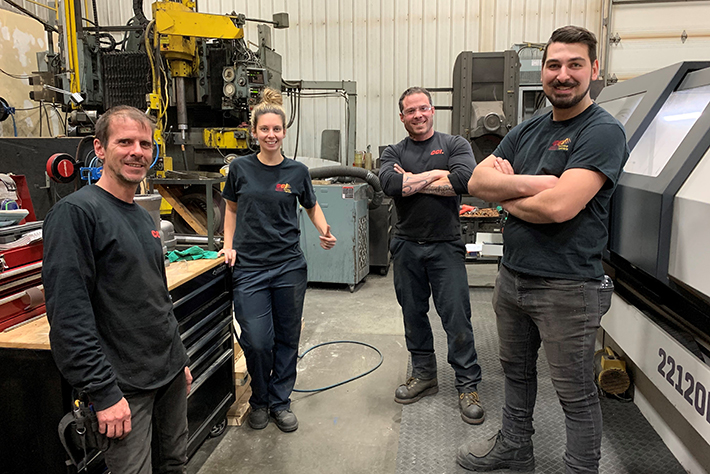 Vision
CCI aims to occupy a greater market share in the manufacturing of major components using machining and welding assemblies processes for the forestry, pulp and paper, metallurgy and heavy industry equipment.
Thanks to our expertise in parts reconditioning and components by thermal spraying, and to its constant investments in research and development, CCI prides itself on its competitive market advantage and its turnkey service from component ideation based on their specific needs, to the manufacturing process.
Values
Our four fundamental values guide each of our actions and ensure that we remain at the forefront of the solutions we offer our clients.
Efficiency
Offering our clients innovative solutions and implementing work methods that improve our performance.
Initiative
Understanding the reality of our clients to better offer them cutting-edge solutions which improve their productivity.
Teamwork
Fostering collaboration among all employees, regardless of their position, and among our partners and clients as well.
Respect
Being considerate of our clients, our partners, and our employees by listening attentively to the needs and ideas of all.
Contact us
Have questions or a project in mind?
Contact us – we will be pleased to speak with you.